The Astro Robin, tough and good-looking, just like me. - Jack Levin, F-Zero GX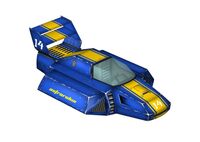 Pilot: Jack Levin
The Astro Robin is Jack Levin's F-Zero machine which was manufactured by Team Lightning Bolt. This team is known to be extremely famous and also makes up part of F-Zero's old guard. Along with the vehicles' extremely advanced control components, this machine was designed as a high-tech lightweight vehicle to match its pilot's "lightning" method of racing. The Astro Robin has the quickest acceleration of any vehicle. In order to satisfy Jack Levin's huge female fan base, the team installed cameras throughout the cockpit that broadcasts Jack from all different angles during the races.[1] With its high handling and durability, its only real weakness is its boost, which it somewhat makes up for with a high amount of acceleration.
Statistics
Number: 14
Creator: Team Lightning Bolt
Engine: SS-C503-LVx2
Weight: 1050kg
Body: B
Boost: D
Grip: A
References
↑ Pelland, Scott (ed.) (2003). F-Zero GX Player's Guide. Redmond, Washington: Nintendo of America, Inc, pp. 13. ISBN 1930206-35-6.

 
Ad blocker interference detected!
Wikia is a free-to-use site that makes money from advertising. We have a modified experience for viewers using ad blockers

Wikia is not accessible if you've made further modifications. Remove the custom ad blocker rule(s) and the page will load as expected.