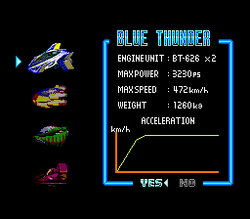 Blue Thunder is one of the four vehicles available in BS F-Zero Grand Prix and BS F-Zero Grand Prix 2. It accelerates very quickly and turns well on corners.
Engine: BT-626 x 2
Weight: 1260 kg
Maxspeed: 472 km/h
Maxpower: 3230 ps.
Trivia
It shares the same name as the monster truck.
Ad blocker interference detected!
Wikia is a free-to-use site that makes money from advertising. We have a modified experience for viewers using ad blockers

Wikia is not accessible if you've made further modifications. Remove the custom ad blocker rule(s) and the page will load as expected.