Clank Hughes is the pilot of the Dragon Bird EX in F-Zero Climax. He's the extremely young boy training to be the third Captain Falcon under the tutelage of Rick Wheeler. He was previously not allowed to race but received the Dragon Bird after Rick became the new Captain Falcon.
An energetic young boy with an extensive knowledge in technology. He has modified the Dragon Bird since and uses the robot Tech to help him pilot it.
In The Anime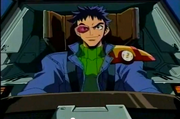 Clank Hughes (Tek Hughes in the dub) makes his first appearance as a hacker from a war-wrecked planet that hacked into the Dragon Bird and hijacked it only to be stopped by Captain Falcon. He then found a home at the Falcon House as its bookkeeper.
Ad blocker interference detected!
Wikia is a free-to-use site that makes money from advertising. We have a modified experience for viewers using ad blockers

Wikia is not accessible if you've made further modifications. Remove the custom ad blocker rule(s) and the page will load as expected.