Ad blocker interference detected!
Wikia is a free-to-use site that makes money from advertising. We have a modified experience for viewers using ad blockers

Wikia is not accessible if you've made further modifications. Remove the custom ad blocker rule(s) and the page will load as expected.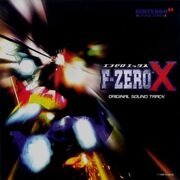 F-Zero Original Sound Track is the video game music soundtrack from the futuristic racing game F-Zero X for the Nintendo 64 video game console developed and produced by Nintendo. The album contains musical tracks from the game composed by Taro Bando and Hajime Wakai. It was released on September 18, 1998 in Japan by Pony Canyon bearing the catalogue number PCCG-00459.
Track listing
The soundtrack is made out of a single disc with twenty-nine tracks in total.
F-Zero X Original Soundtrack tracklist

"Endless Challenge" - 2:45
"Dream Chaser" - 3:37
"Fall Down to the Scream" - 2:26
"Decide in the Eyes" - 3:34
"Devil's Call in Your Heart" - 2:20
"The Long Distance of Murder" - 2:33
"Crazy Call at Cry" - 3:12
"Drivin' Through on Max" - 2:41
"Climb Up! And Get the Last Chance!" - 2:50
"All Need is 30 Deaths" - 1:52
"Title BGM" - 2:53
"Car Select" - 1:19
"Option" - 1:02
"Start Demo" - 0:09

15. "Goal Fanfare" - 0:10
16. "Goal BGM" - 1:17
17. "Retire" - 0:12
18. "Game Over" - 0:17
19. "Grandprix Ending" - 1:25
20. "Staff Roll" - 2:46
21. "Win! The Staff Ghost 1 Mute City" - 1:28
22. "Win! The Staff Ghost 2 Silence" - 1:20
23. "Win! The Staff Ghost 3 Devil's Forest" - 1:27
24. "Win! The Staff Ghost 4 Port Town 1" - 1:39
25. "Win! The Staff Ghost 5 Red Canyon" - 1:23
26. "Win! The Staff Ghost 6 Big Blue 2" - 1:13
27. "Win! The Staff Ghost 7 White Land" - 1:43
28. "Win! The Staff Ghost 8 Fire Field" - 1:28
29. "Win! The Staff Ghost 9 Sector-β" - 1:45
External links