Origammy
is a lost character from the
F-Zero series
that was supposed to replace
Dr. Stewart
in the cancelled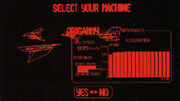 virtual boy game,
Zero Racers
.
The paper-light Origammy accelerates instantly and whips around corners like it's on a rail, but the maximum speed is only 835KM/h.youll want this on the most twisted tunnels.
Ad blocker interference detected!
Wikia is a free-to-use site that makes money from advertising. We have a modified experience for viewers using ad blockers

Wikia is not accessible if you've made further modifications. Remove the custom ad blocker rule(s) and the page will load as expected.