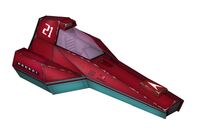 Pilot: Mrs. Arrow
The Queen Meteor was designed by Professor Hollow as a counterpart to the lighter King Meteor . Professor Hollow was also the man responsible for designing their armor and secret weapons. The machine was based on the designs of the machine Mrs. Arrow used in the old Grand Prix. It boasts above average grip and boost, but suffers from a weak body structure.
---
Number: 21
Creator: Professor Hollow
Engine: HW305-U2x2
Weight: 1140 kg
Body: E
Boost: B
Grip: B
Ad blocker interference detected!
Wikia is a free-to-use site that makes money from advertising. We have a modified experience for viewers using ad blockers

Wikia is not accessible if you've made further modifications. Remove the custom ad blocker rule(s) and the page will load as expected.