Silence is a planet in the F-Zero series, aptly named so due to the fact that nothing on the planet creates any noise.[1] Absolutely no life can be found on this planet. According to F-Zero GP Legend, no living creature calls this place home, which is why this world is deserted.
Appearance in F-Zero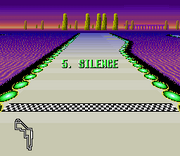 This course consists of 90-degree curves, and a shortcut with mines.
Silence appears twice: the first one in the Jack Cup is a straightforward banking course with Dash Plates, the second one in the King Cup is narrow with many sharp turns and a wavy section with no barriers.
References
↑ [1991-08-13] in Nintendo EAD: F-Zero instruction manual (in English). Nintendo, pp. 19. ""A truly soundless planet, where not even a single noise is heard.""

 
Ad blocker interference detected!
Wikia is a free-to-use site that makes money from advertising. We have a modified experience for viewers using ad blockers

Wikia is not accessible if you've made further modifications. Remove the custom ad blocker rule(s) and the page will load as expected.