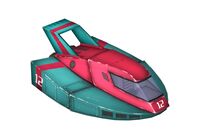 The Super Piranha was commissioned by Kate Alen using her massive fortune that she accumulated throughout her music career. The machine is of solid construction and has excellent handling, though the boost powers are only average. In order to drown out the engine noises and other sounds from the race track, Kate had a pure hi-fi sound cockpit constructed.
---
Number: 12
Creator: Team Power Boys
Engine: 0Z-P1x2
Weight: 1010kg
Body: B
Boost: C
Grip: B
Trivia
In F-Zero X , one of the Piranha's colour swaps resembles Samus Aran's Starship. Samus Aran is the main character in another Nintendo franchise, Metroid.
Also, in F-Zero X, it is the only machine to share the same Body, Boost, and Grip stats as the Blue Falcon.
Ad blocker interference detected!
Wikia is a free-to-use site that makes money from advertising. We have a modified experience for viewers using ad blockers

Wikia is not accessible if you've made further modifications. Remove the custom ad blocker rule(s) and the page will load as expected.